Timeline Tracker
The Timeline Tracker displays a timeline chart for tracking how the contract has progressed through different stages.
Enter the Tracking ID in the Transaction Tracking ID field and click the

icon. the timeline chart is displayed as below.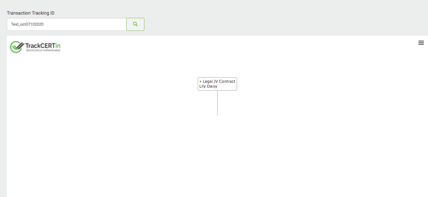 In the above example, the Joint Venture Contract has been created by Lily Daisy, signed by Nancy Grace, and Jim Robert (as signers), signed by Martin Luther as escrow agent. Finally the Joint Venture is formed by Tony Marc.
If you click on each stage of the contract, the details are displayed in a popup as shown below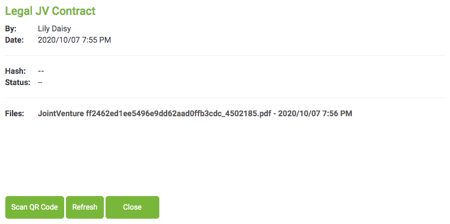 Here,
By: is the name of the user
Date: is the timestamp of the transaction
Hash: displays the hash when the transaction was hashed to blockchain
Status: displays the status of the transaction. It could be Complete or Fail
Files: displays the PDF files that were generated each time the contract was saved
Clicking on the Hash will display the transaction information on blockchain
Clicking on the Files will open the PDF file
Click the

button to refresh the details displayed in the popup window
Click the
button to close the popup window
You can download the chart in different formats, print the image and view it in full screen.
View Full screen- will open the chart in full screen mode
Print Chart- will print the chart
Download PNG Image- will downlaod the chart as a PNG image
Download JPEG image-will downlaod the chart as a JPEG image
Download PDF document- will downlaod the chart as a PDF document
Download SVG vector image- will downlaod the chart as a SVG vector image
Clicking on the

icon will display a menu as shown below

Refresh- will refresh the gadget
Minimize- will minimize the gadget