Contact Groups
The "My Groups" gadget allows you to find a set of contacts based on specified filters.  Your Groups are saved so they can be reused and shared for easy collaboration with team members
Running the group search will bring up all the contacts that match your criteria
To Create a Group
1.       Select Contacts tab from the left hand menu to land on the below page.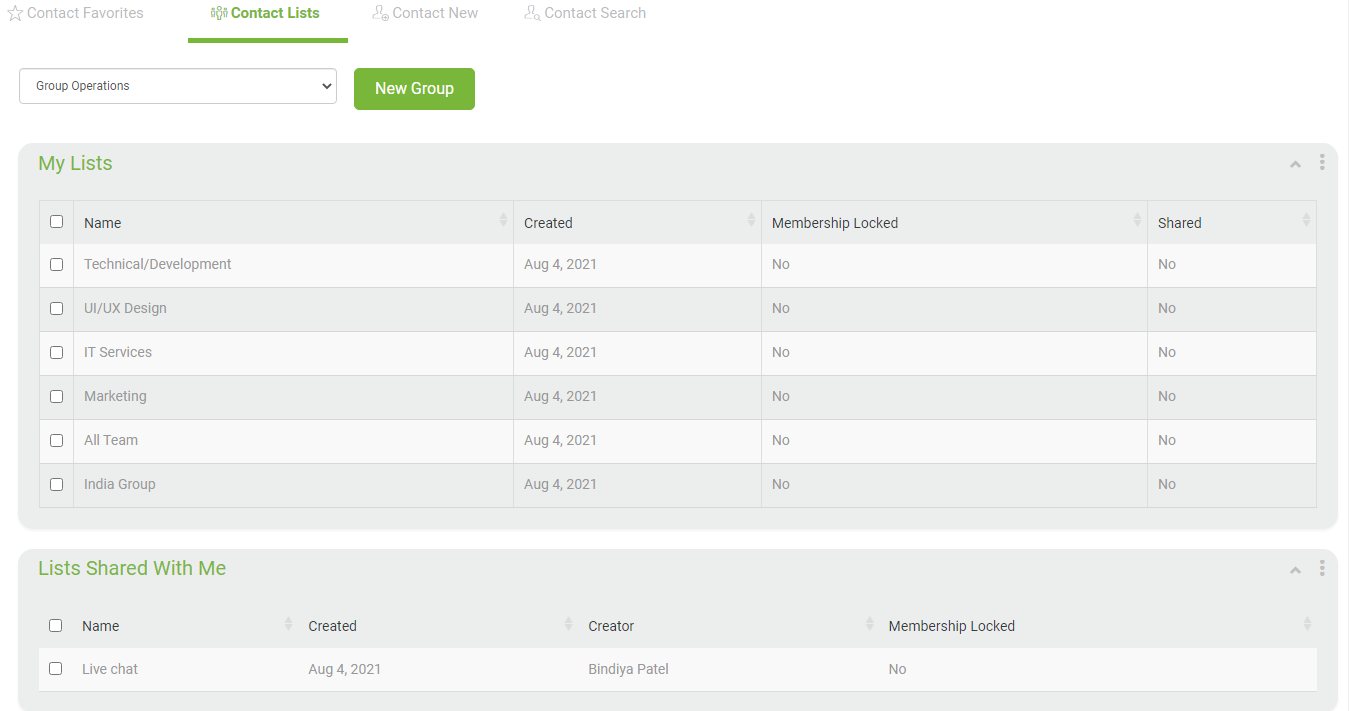 2. Select

 button. This will bring you to the Group Editor (displayed in the following screenshot below)

3.       Enter a name for the group and select Lock Membership if you want the list to be static. Otherwise, every time you click "List Contacts", the group may find new contacts that match your filters and the list will update.
4.       By default, Users will be excluded in the group. Otherwise, select "Include Users"
5.       To populate your Group, select either the 'Match All Contacts' or 'Match Any Contacts'.
a.        'Match All Contacts' will list contacts who meet all of your filters.
b.       'Match Any Contact' will list contacts that meet one or more of the filters.
6.       Click "Tag" to see a dropdown of all the choices.
7.       Click the (+) button to use multiple criteria. Use (...) to create sub-criteria, or 'Nested' criteria.  The Tutorials section will have more use-cases for complex groups.
8.       Set your search criteria and click Save
Viewing Group Contacts
Clicking a Group in the My Groups section will open the following menu: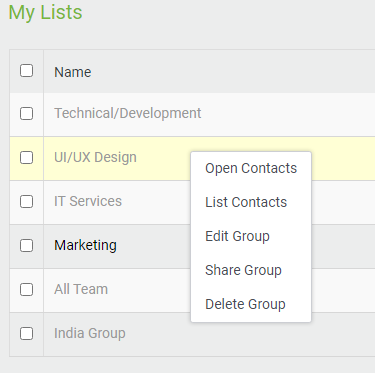 Click Open Contacts to open the first Contact Record in the group. Contacts are automatically sorted by the "Last Modified" date of the contact, most recent first

Navigate through the Contacts within the Group by clicking Previous Contact or Next Contact.
To view all the contacts in your group, select List Contacts in the drop down menu.
Edit a Group
Click 'Edit Group' and make your changes within the Group Editor
Click Save, or click Cancel to close the Group Editor without making any changes.
Sharing a Group
Select 'Share Group' by clicking on a Group in the My Groups tab.
Type the name of the Users in Add Sharers bar.
Click Save to update your group, or Cancel to close without retaining your modifications.
Deleting a Group
Click Delete Group from the dropdown in the previous window [See: Viewing Group Contacts]. You will be asked to confirm.
Click OK to remove the Group from the system.