Why You Need Trust, Truth and Transparency.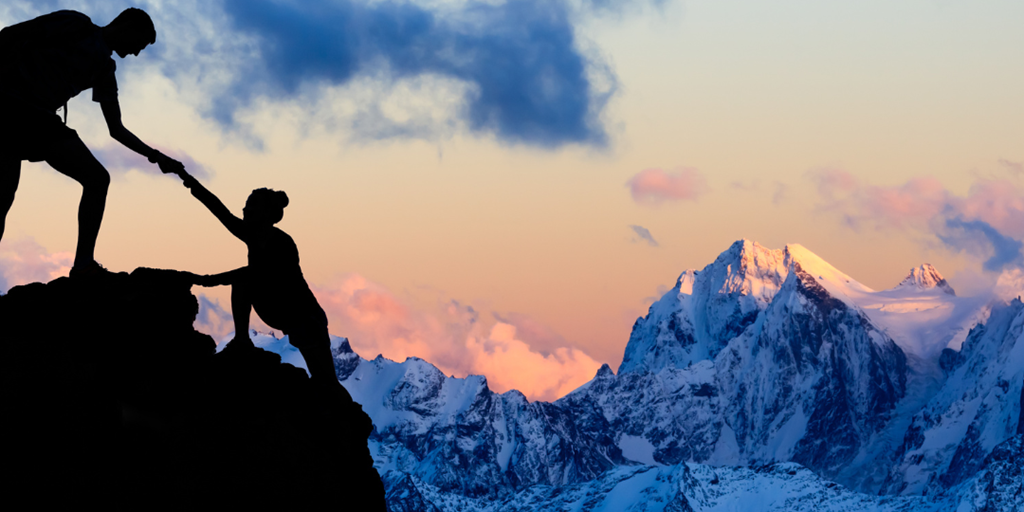 Who Doesn't Want Real-Time Accuracy, Complete Trust,  Truth, and Transparency provided by the BlockCerts Blockchain Cloud Internet?


When looking at the idea of Trust, Truth, and Transparency in business dealings, it seems obvious that a business would want Trusted relationships.  Doesn't it?   And everyone should want Truth in transactions.  Right?  What about a ledger that kept unquestioned and immutable transparency of the chain of events?  All the details are stored and kept 100% private, by encryption, until and unless there is something that needs to be discovered, read, or reviewed in human form.   Who wouldn't want this ?!

The short answer is there are trillions of dollars and profits on the line – let's highlight a brief list of those who stand to lose (and what you stand to gain) with the current profiteers and "naysayers" of the inefficient use of the technologies.

In our current social and business economic structures, the answer is A LOT of businesses!   The Truth is many industries depend on confusion and slow or inaccurate systems that employ people and generate fees.   Banking is only the tip of the iceberg – however, it is the tip that started the evolution of the blockchain revolution – meaning, it can be clearly seen.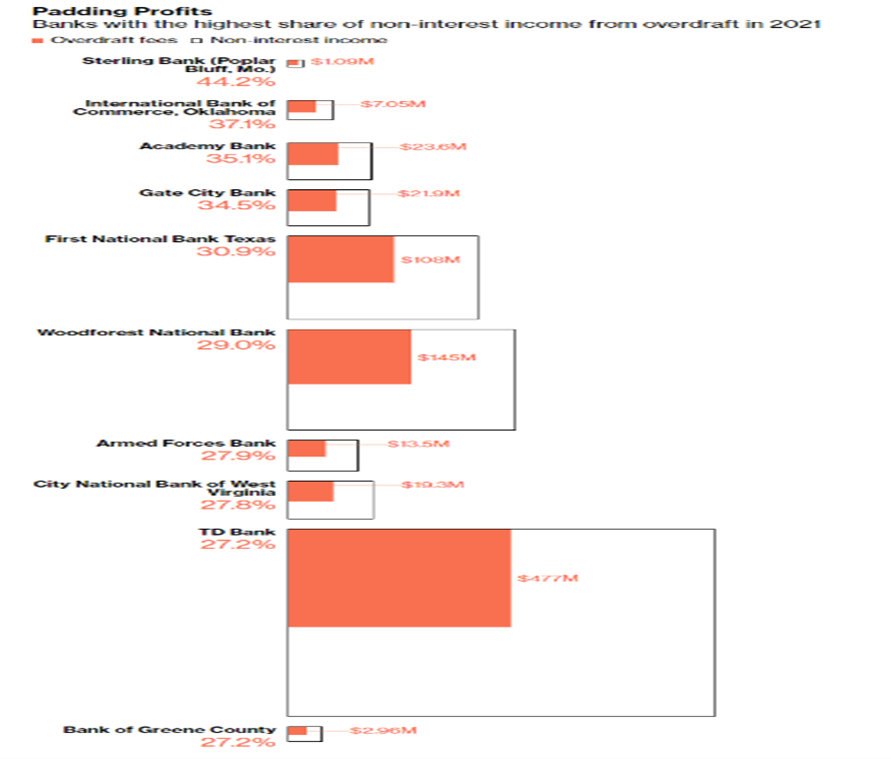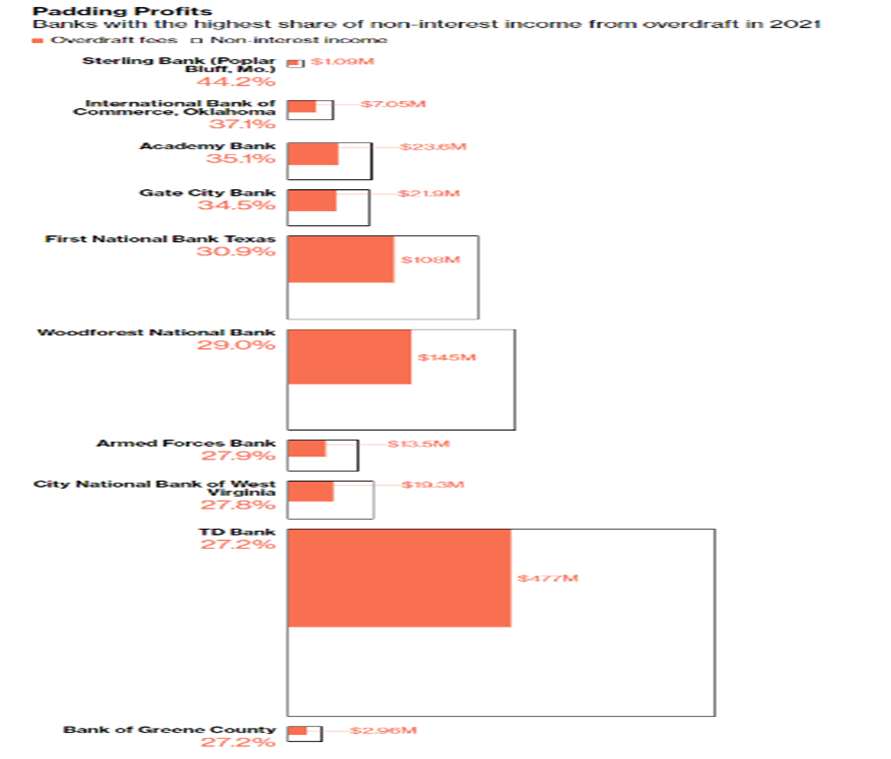 While we could do a deep dive into this massive economic boom for these industries, which I wrote in a 250-page whitepaper back in 2017 on how centralized firms and industries, and the business models that control and earn trillions – I've chosen to summarize in this blog, by providing a list of headlines and sources.  With a little Googling, we can uncover how the industries that are ripe to be forced to change their practices can save us, as consumers, over two trillion dollars, year over year!

Think of this blog like the spec sheet to economics-- the details you can research about your new computer before you buy, or the specs about your car.  With a little research, you can easily find out what to be aware of, and where the blockchain alternatives are. Your future will make much more financial and long term sense with your technology.   If you're not the "dig into the specs" type, this summary will provide validation that it makes sense to be a smarter business operator, owner or consumer by knowing the facts of of the hidden costs behind the industries we all, eventually, use.

Industry 1:  Banking (the one that started it all with blockchain)
Banks and credit card companies make a lot of money by helping people mismanage their money. How much to be exact?  According to Bloomberg, about $8 billion dollars in fees are generated, automatically using the fees market to pad profits!


"US consumers who frequently overdraft drive more than half of the profitability of mass-market checking accounts."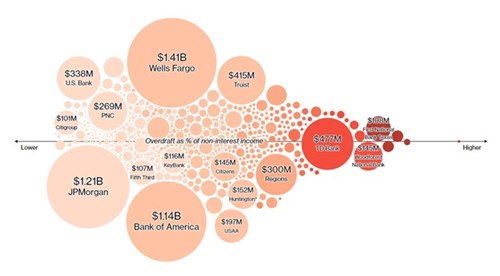 "Letitia O'Brien was down to about $1.70. It was March and the 62-year-old retired nurse had found herself here before. Months earlier, when she didn't have enough to cover an electric bill around $300 and a CT scan of her chest that cost her about $100, her account with PNC Financial Services Group Inc. over drafted, triggering a chain of $36 fees. Now she was worried that an upcoming grocery delivery could put her back in the same dark place." (Bloomberg, n.d.)

Can we, as a society trust the centralized financial institutions whose policies to drive fees and profits goes against our best interests?  The system is set up to profit even if you're not.  

Blockchain started with the banks – from the 2008 disaster of trading in the mortgage markets, until today, banks continue to damage our ability to escape the damage they do by providing inferior systems, lack of transparency and profit in the billions.  In fact, JP Morgan is now employing blockchain and investing heavily, while Jamie Dimon, the CEO of JP just a few years ago called BitCoin, the first blockchain-based proven APP, a "Tulip Bubble".[1]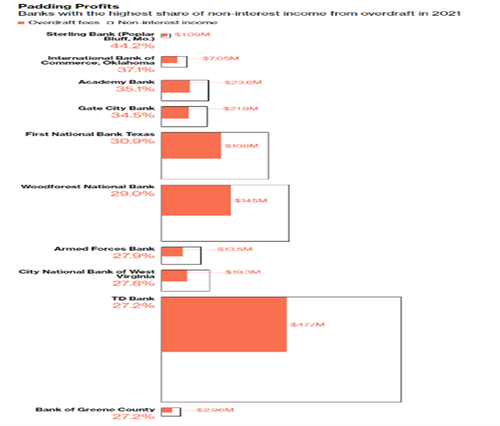 Bloomberg calls this "padding profits".  And offers a visual graph of who benefited the most from non-interest-bearing profits (what banks are there for) – by adding fees.  source (Bloomberg, n.d.)

What about lawyers and law firms?  "The Bean Counters" (aka accountants), accounting firms?  Mortgage brokers? Real estate agents?     Health insurance claims processors?  The list goes on!

Let's discuss what other industries are "profit padding" from the lack of real-time accuracy that can be afforded by blockchain-based businesses and TrustEnomics.   And, what you can do to make sure your pockets stop getting picked from these inefficient industry practices in your business and personal life.

Industry 2:  Real Estate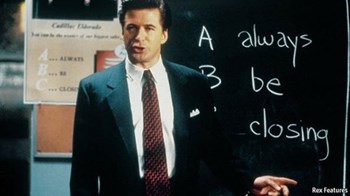 Why is it so expensive to buy or sell a house in America? (Economist, n.d.)
Realtors charge a percentage of the purchase price. That fee has been increasing over time and is currently at an all-time high. In Europe, the average commission is 2-3% while, in the United States, it hovers between 3-8% depending on the state. If your agent works for an individual broker instead of a larger company, then he or she can only take home about 80% of the commission instead of 100%. So, if you're selling a $400,000 house, your real estate agent is taking between $12,000-$32,000 of your selling price excluding closing costs.
Industry 3:  Health Care Claims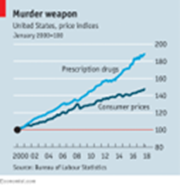 Many drug prices have increased by over 120% in the last several years, with no real reasoning other than profit padding. "…there is plenty for government to do to help keep prices under control. It could take aim at the system of rebates, huge incentive payments that prescription-drug manufacturers provide to middlemen such as PBMs, but which do not usually trickle down to patients." (Economist, n.d.)  May 10th 2018 
In addition, as the trend towards digital records increases the capacity to digitize every stage of the claims process, implying process improvement, from data entry to claims management and billing processing, holds enormous promise for increasing medical billing and claims management efficiency and accuracy. When done correctly, the end result may be cheaper expenses and a better customer experience. Thus, improvements to the overall healthcare organization's process are expected to propel the industry's growth. 


Industry 4:  Legal Process Billings (evidence and discovery)
The boom in electronic discovery presents an opportunity and a predicament. 
All of this information needs to be processed — converted from its raw form on e-mail servers, backup tapes and CD-ROMs into a format that can be more easily searched and analyzed. Then it must be reviewed. It all gets very expensive, very fast. The commercial e-discovery market (not counting what the government spends) was estimated at $1.295 billion in 2005, according to the Socha-Gelbmann Electronic Discovery Survey, up 56 percent from 2004. By 2008, the survey projects, that revenues will hit $3.13 billion. (Law.com, n.d.)
 Industry 5:  Accounting Industry

Audit fees in Canada hit a seven-year high in 2020… the average audit fee as a percentage of revenue rose to 0.33% in 2020 for Canadian companies listed on the Toronto Stock Exchange (Canadian Accountant, n.d.)

Audit fees in the U.S. appear to be climbing at a faster pace in recent years than in Canada and Europe …  average audit fee as a percentage of revenue rose from 0.39% in 2018 and 2019 to 0.44% in 2020 for U.S. companies (Accounting Today, n.d.)

Revenue of the Big Four accounting/audit firms worldwide in 2021 (in billion U.S. dollars)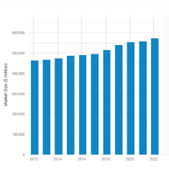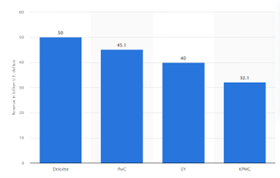 Total revenues of the big four accounting firms in 2021 were $167.2 billion according to Statista (Statista, n.d.)
With a reported $573.8 billion in overall global accounting market size and rising at a rate of 2.6% as of August 2022 according to IBISWorld. (IBIS World, n.d.)
Industry 6:  Mortgage Banks

"Mortgage banks and mortgage subsidiaries of chartered banks made an average profit of $2,339 on each loan they originated in 2021, down from the record $4,202 per loan in 2020." (MBA Morgage Bankers Association, n.d.) While this number has decreased in the last year, the staggering amount of money the industry makes from home ownership begs the question-- is this necessary? 

Industries 7 and 8 :  Software as a Service "SaaS" and Cloud
The "sales force" for software, goods, and services that keep us getting emails and phone calls to buy the products, is valuable – when with a click on the BlockCerts Blockchain, we could eliminate the annoying need to ever take a software sales persons "demo" again and save a couple of billion in costs (today) and more than nearly five billion by 2028 at current trends!  These are costs that are being passed on to business users in the form of seat and license fees (no wonder they call sales "Force" !)   The global sales commission software market was valued at USD 2.1 billion in 2020 and is expected to grow at a CAGR of 10.4% over the forecast period to $4.7 billion by 2028  January 31, 2022.  (Adroit Market Research, n.d.)

The Global SAAS Market is expected to reach a value of USD 720.44 Billion by 2028, at a CAGR of 25.89% over the forecast period (2022 - 2028) - SkyQuest Technology (SkyQuestThe Glogal SaaS Market Reach Value USD 720.44 Billion, n.d.)

Gartner Forecasts Worldwide Public Cloud End-User Spending to Reach Nearly $500 Billion in 2022 (Gartner, n.d.) June 06, 2022
How BlockCerts Helps You Benefit

At BlockCerts Blockchain our main business being technology, we knew we could start with the multi-trillion dollar license fee model, and go from there when we created the platform.  This staggering cost of sales and baked-in license fees might provide a bit more insight as to why we coined the phrase "Cloud Power To the People" @ BlockCerts.com – where you can beat this trap starting with a free download.

So there it is – the Top 9 industries ripe for transformation.   These are eight of the age-old industries that are hurt by efficiency and the Trust and Truth made possible by the business models BlockCerts Blockchain enables today.  The elimination of real-time transactions based on digital ledger technology boils down to over 2 trillion dollars in efficiency across the additional 7 industries, plus what banking fees alone are costing us.  Projected to more than double and reach nearly $5 trillion in just five years.  

Can you expect the truth to be told by these industries when it could take away so much of their profitable business practices?   In the table below are the numbers summarized from the above-listed stats:
 
 
 

$ Billions

1

Banking (fees only)

 

$8.0

2

Real Estate Agents

 

$100

3

Mortgage Bankers

$4.9

4

Accounting

 

$573.8

5

Legal (discovery)

 

$13.39

6

Global Healthcare (claims)

$136

7

SaaS companies

 

$722

8

Cloud technology

 

$500

 
 
 
 
 

Two trillion (growing per annum)

 

$2,058
 Two trillion dollars and growing!   When we put this in perspective, is more than the entire $1.9 trillion COVID relief stimulus of the US Government.  This is happening in our economy every single year, where government assistance was a one-time thing!  What could we do with a smarter-run economy where these fees no longer controlled the services listed above?

The profit-making by the law firms, banks, and accounting firms could be based on the fundamental services provided in these industries (for more of a deep dive into accounting practices, a favorite read of mine is a book by the title "The Bean Counters: The Triumph of the Accountants and How They Broke Capitalism")   Similarly mortgage banking going direct to lenders without the middlemen brokers, real estate that is verified and sold through an authenticated model and smart contracts could eliminate most of the $100 billion in agency fees that happen every time a home sales, driving, on a compounding basis, the price of real estate skyward. 

Of course, the nay-sayers will argue that these industries must exist to these provide jobs and these critical services.  We agree with the "critical services" part - these industries must exist, BUT - the ineffective practices of "profit padding" does not need to exist.   Cutting the costs to you as a business leader, and our customers as consumers forces these industries to become more efficient.  We can no longer afford, as businesses, in capitalism or society to pay homage to broken business models of our some of our most critical industries that need to be transformed.   There you have it – I've said it. 
BlockCerts set out to transform how business is done with and to invalidate the way these fees occur – which is why, way back in 2016 when BlockCerts was born, the staff at MIT, when they saw my capstone thesis said "A very interesting idea has been put forward that could have a positive impact on society." (MIT, n.d.)

So what can you do today?  Just say NO to fees!   Start by downloading the ORBITi Browser by BlockCerts – this is where you start your journey of control! 

You can adopt a sustainable approach that will put your hard-earned dollars, your business, and your personal affairs in order on the blockchain by starting to use the tools today.   Your pocketbook today will thank you, your future will thank you, and the demand for a more effective way of cutting the FAT from your business and personal life, and stopping padding profits of outdated business practices will help you become part of a future that thanks you.

We take action with more environmentally friendly sustainable living.   We have ideas about how to eat healthier.   Now we can become more economically sustainable by cutting the F.A.T. out of our economic lives. And, we can do it today – the F.A.T. is the hidden Fees, through the Agreements that are forced on us and the Technology that works against our best interests instead of helping us power ourselves.   

We cut the F.A.T. at BlockCerts with BCERT Tokens – think of them as the pain killer to technology and business that can save our budgets, our lives, and our economy.  

If you want more control over your future, you know what to do – "Just Do IT", get started with a free download of the ORBITi Browser on BlockCerts Blockchain #CutTheFAT to build a better future.


Tim Vasko
Founder BlockCerts Blockchain
TrustEnomics Leader
Works Cited
Accounting Today. (n.d.). Audit fees rising faster in U.S. than other countries. Retrieved from https://www.accountingtoday.com/news/audit-fees-rising-faster-in-u-s-than-other-countries
Adroit Market Research. (n.d.). Sales Commission Software Market to Surpass $4.7 Billion by 2028. Retrieved from https://www.globenewswire.com/en/news-release/2022/01/31/2375473/0/en/Sales-Commission-Software-Market-to-Surpass-4-7-Billion-by-2028-Global-Outlook-on-Incentive-Compensation-Sales-Performance-Management-Data-Integrations-Market-Projections-Roadmap-C.html
Bloomberg. (n.d.). Retrieved from https://www.bloomberg.com/news/articles/2021-07-09/real-estate-agents-eye-record-100-billion-as-home-sales-boom#xj4y7vzkg
Bloomberg. (n.d.). 2022 Bank Overdraft Fees Costing Consumers Billions. Retrieved from https://www.bloomberg.com/graphics/2022-bank-overdraft-fees-costing-consumers-billions/
Canadian Accountant. (n.d.). Retrieved from http://www.canadian-accountant.com/content/profession/ifac-report-audit-fees-in-canada-rise-to-seven-year-high
Economist. (n.d.). Retrieved from https://www.economist.com/business/2018/05/10/americans-tired-of-high-priced-drugs-are-fighting-back
Economist. (n.d.). The great realtor rip-off. Retrieved from https://www.economist.com/business/2012/05/05/the-great-realtor-rip-off?utm_medium=cpc.adword.pd&utm_source=google&utm_campaign=a.22brand_pmax&utm_content=conversion.direct-response.anonymous&gclid=EAIaIQobChMIjKOM-_v4-QIVARXUAR0cpgUREAAYASAAEgIY0vD_BwE&g
Gartner. (n.d.). Gartner Forecasts Worldwide Public Cloud End-User Spending to Reach Nearly $500 Billion in 2022. Retrieved from https://www.gartner.com/en/newsroom/press-releases/2022-04-19-gartner-forecasts-worldwide-public-cloud-end-user-spending-to-reach-nearly-500-billion-in-2022
GlobalNewsWire. (n.d.). Retrieved from https://www.globenewswire.com/en/news-release/2022/01/31/2375473/0/en/Sales-Commission-Software-Market-to-Surpass-4-7-Billion-by-2028-Global-Outlook-on-Incentive-Compensation-Sales-Performance-Management-Data-Integrations-Market-Projections-Roadmap-C.html
IBIS World. (n.d.). Global Accounting Services - Market Size 2005–2028. Retrieved from https://www.ibisworld.com/global/market-size/global-accounting-services/
Law.com. (n.d.). Retrieved from https://www.law.com/legaltechnews/almID/1179392701422/
Market Watch. (n.d.). E-discovery Market Size 2022-2030. Retrieved from https://www.marketwatch.com/press-release/e-discovery-market-2022-size-global-industry-analysis-by-trends-share-company-overview-growth-and-forecast-by-2030-latest-research-report-2022-09-02
MBA Morgage Bankers Association. (n.d.). MBA: IMB Production Profits Fall in 2021 from Record 2020. Retrieved from https://newslink.mba.org/mba-newslinks/2022/april/mba-newslink-tuesday-apr-12-2022/mba-imb-production-profits-fall-in-2021-from-record-2020/
MIT. (n.d.). TimVasko.com. Retrieved from https://timvasko.com/
Research and Markets. (n.d.). Retrieved from https://www.prnewswire.com/news-releases/global-healthcare-claims-management-market-2022-to-2030---size-share--trends-analysis-report-301617055.html
SkyQuestThe Glogal SaaS Market Reach Value USD 720.44 Billion. (n.d.). Retrieved from https://www.globenewswire.com/en/news-release/2022/06/06/2456875/0/en/The-Global-SAAS-Market-is-expected-to-reach-a-value-of-USD-720-44-Billion-by-2028-at-a-CAGR-of-25-89-over-the-forecast-period-2022-2028-SkyQuest-Technology.html
Statista. (n.d.). Global Accounting Services - Market Size 2005–2028. Retrieved from https://www.statista.com/statistics/250479/big-four-accounting-firms-global-revenue/
[1] The cryptocurrency is "worse than tulip bulbs," Dimon said at a Barclays Conference on Tuesday, according to Bloomberg. That's a reference to the arrival and boom of the tulip plant in 17th-century Europe.  https://www.businessinsider.com/bitcoin-price-worse-than-tulip-bulbs-2017-9
To enable comments sign up for a Disqus account and enter your Disqus shortname in the Articulate node settings.