Where Will BCERTS Be Used?
We are building the BCERTs Tokens platform to integrate the BCERTs CORE business cloud (see below), the BCERTs Central Smart Registry "CSR" ledger system, as well as a BCERTs wallet and related blockchain-authenticated functionality. The utility token is for streaming transactions and obtaining services, authenticating users' identities, and affecting compliance and regulatory based processes on the platform. The token will be used, for example, in managing identity for Know Your Client (KYC) and Anti-Money Laundering (AML) on-boarding, tracking transaction terms, providing compliance-based tracing and processes, validating documents and user applications for loans, mortgages, prescriptions and other highly regulated, compliance based, transactions. The token may also be used to acquire integration services through private posts to authentication services, to transfer services, and to confirm third party Applications (APPs), posted on the BCERTs APP store.
Given the software development kit, API and open development modules we publish for the platform and projects, we also envision that as we develop the BCERTs protocol, third-party developers may come up with new and novel uses for the tokens, its functions and new integrations.
Register an account
Activate your account
Go to the Themes section and upload your theme
The next step is the approval step, which usually takes about 72 hours.
Are BCERTS Transferrable and Where Do I Sell Them?
BCERTs are utility tokens meant for use in the BCERTs CORE platform. They are transferable. There is no restriction on the token being traded on exchanges, at the token- holders discretion. There are many exchanges, listed here, however, we have not encouraged or facilitated any exchange trading in any way.
How Do I View BCERT Tokens in My Wallet?
You can view BCERT token balance in your non-hosted Ethereum wallet that supports ERC20 tokens by watching the BCERT contract.
BCERT Smart Contract address: ##################
Number of Digits: 18
Symbol: BCERT
Which Wallets Can Be Used to Store BCERT Tokens?
BCERT meets ERC20 token protocol, and can be stored in ERC20 compatible wallets. BCERT Tokens can be stored in the BCERT Wallet, or external wallets. We do not recommend a particular product.
What Cryptocurrencies Are Represented During the Sale?
Ethereum (ETH) or BitCoin (BTC)
What Are Some Names of Service Providers and Publishers That Have Signed Up with BCERT CORE And Our Affiliated Platforms?
BCERTS affiliate and primary sponsor, Finaeos.com has already created partnerships with Microsoft Azure and Oracle Cloud. APP publishers such as Artificial Intelligence "AI" innovator, IPSoft, accreditation developer and fintech API provider (Envest / Yodlee – pending), Oracle Apiary have provided API integration and APP publishing on the BCERT CORE and FintechStore.com. Other large name publishers are working to become part of the platform, and will be added upon completion of requirements.
What Do You Accept To Purchase More Tokens?
Ethereum (ETH) or BitCoin (BTC), Rupees, US Dollar, Mastercard, Visa
How Do I Buy Tokens?
1. Click on Pricing to Order your first BCERTin application with the token program needed for your business.
2. In Your BCERTin Wallet you'll be able to purchase additional tokens.
How Many Tokens Do I Need for My Business?
The 500 Token plan is a great starter plan for most small businesses. If you have more than 3 employees or more than a couple hundred customers, you'll want to move-up to the next token level. One great advantage of tokens is that if you aren't using them, you will have the opportunity to rent them or let them appreciate in value with market increases they become an appreciating asset.
What is the timeline for ID verification?
ID verification should be completed within 12 to 24 hours provided all required information was completed. Please contact support after 24 hours.
What is the timeline for transaction to be completed?
Immediate to 2 hours. Please, contact support after maximum timeline
What are Public and private keys?
Public keys are publicly displayed and essential for identification. Private keys are secret and used for authentication and encryption
Do I have any restrictions while ID verification is pending?
There are no restrictions. You can perform all transactions on wallet
How many wallets can I create within an account?
User can create multiple wallets within an account
Do I need to purchase token to complete ID verification process?
Yes. 50,000INK equivalent of 0.5BCERT token is required for completing ID verification process
How do I navigate back into wallet after IDCertin process?
Return and refresh open wallet application after completing ID verification process
Is there a mobile BCERTin wallet application?
Currently, there is no mobile application for the wallet
I lost my private key, how do I get my token?
Do I need to download MetaMask Wallet from Uniswap?
No, this is not required.
Does BCERTin Wallet hold other tokens?
No. Currently, this wallet only holds BCERTs tokens
Do you need to own BCERT token to get a wallet?
Yes. Minimum of 1 token is required
Can I transfer tokens to other wallets outside of BCERTin wallet?
No. This feature is currently not available
Can I buy BCERT with other crypto?
Yes. User can purchase BCERT with BTC and ETH
How do I top off INK?
User can top up by buying INK with BCERT
1 BCERT Token gets me how much INK?
1 BCERTs is equivalent to 100,000 INK
What are the valid payment methods for buying tokens?
Bitcoin, Ethereum, Credit Card and Bank Transfer
What is the cost of a token?
The cost of BCERT token is $11
Can I buy/transfer partial token?
Partial token cannot be purchased
What is the referral program?
The referral program incentivizes current users for recommending products to family and friends
How can I retrieve a deleted wallet?
How do I get wallet details using QR code?
User can extract information from QR code by scanning it with a QR code reader
How do I switch instance?
Click on the current instance then choose desired instance from drop down menu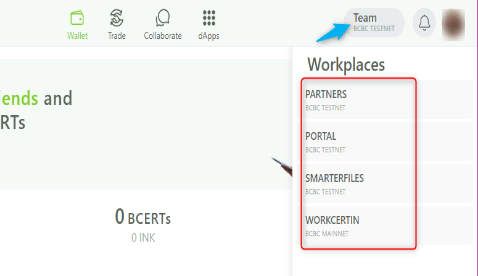 I transferred X amount of tokens to my friend's public key, and he/she has still not received them, but it has been taken out of my wallet?