The BlockCerts Story and Timeline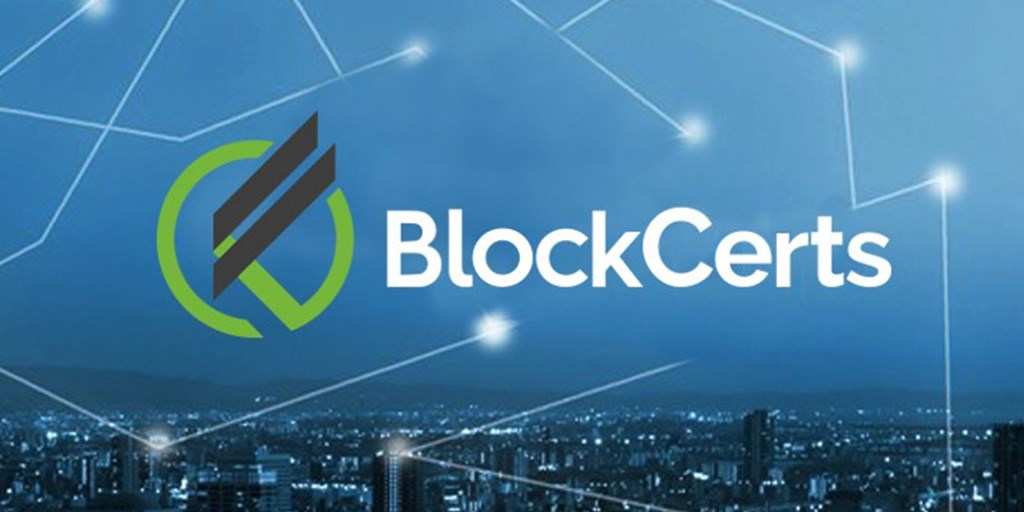 Much like blockchain technology itself, BlockCerts Blockchain has grown tremendously in both scale and adoption. Born to parent company, Finaeos Inc., BlockCerts has evolved from an emerging cloud-based company to a ready-to-use blockchain platform. It has scaled, advanced, disrupted, and transformed, eventually going to market with the first ever blockchain app for business. BlockCerts Blockchain is ready to deliver, proving that blockchain technology is not just "the next big thing", it is the here and now.
It been a journey to get here and we're proud to share our ongoing story with you. Below, you may find a timeline of the many partners, organizations, and individuals that helped shape our journey and build immutable trust along the way.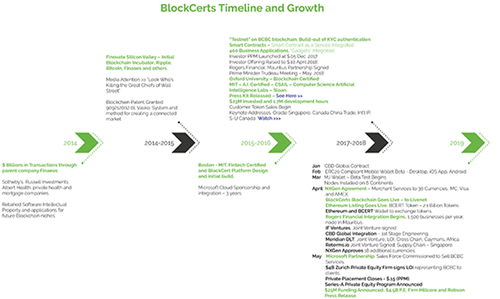 The Early Years
The early origins of BlockCerts Blockchain really began with its parent company, Finaeos. Up until 2014, Finaeos had already processed billions in transactions, working with companies such as Sotheby's, Russell Investments, Albert Health, along with other private health and mortgage companies. From these markets, BlockCerts found new potential across industries and built the foundation for future blockchain niches. It even created Software Intellectual Property to hit the ground running. The company later joined the ranks of emerging tech companies in Silicon Valley, sitting alongside Ripple, Bitcoin, and other pioneers at the initial blockchain incubator, Finovate.
By 2015, Finaeos caught the media's attention and positioned its founder and leader, Tim Vasko as a disruptive force to be reckoned with. "Vasko is, if not the new breed of Wall Street, the near future of it," MarketWatch proclaimed. Validated by the media, the company found its next stamp of approval, a blockchain patent (9092120(12,0), Vasko) to develop its new market. Gaining more and more traction, Tim Vasko gained certification through MIT and was later granted a Microsoft Cloud Sponsorship to grow the company's initial build.
From "Testnet" to the World Stage
Beginning in the "Testnet" phase, BlockCerts Blockchain began integrating different functions, including KYC authentication, Smart Contract as a Service, along with 400 Business Application "Gadgets", catering to businesses big and small. Becoming Blockchain Certified at Oxford University and A.I Certified at MIT, the company continued developing its skills and expertise in the area.
In 2017, the Investor PPM was launched at $.05, followed by an Investor Offering raised to $.10 in April of 2018. The company later hit the global stage, connecting with leaders such as Prime Minister Trudeau and delivering Keynote Addresses at Oracle Singapore, Canada China Trade, Int'l IP, S-U Canada, and more. It is through these global collaborations that BlockCerts was able to grow its team, eventually signing a Mauritius Partnership with Rogers Financial. Thanks to 1.7 million development hours and $23 million invested, the team was finally prepared to launch its customer token sales to the world.
2019, 'The Year of Adoption'
While only halfway through 2019, this year has brought powerful progress to the BCBC team. The CBD Global install created a first in the cannabis industry with BCBC's new product offering MJ Wallet. Although, the company has not limited itself to just one industry or one corner of the world. In fact, it has scaled so far and wide that nodes have been installed on six different continents.
In April, BCBC began integrations with Rogers Financial in Mauritius. It also signed joint ventures across the globe with IF Ventures, Meridian DLT in the Cayman Islands, as well as Reterms.io in Singapore.
April 16th BlockCerts went live with an Ethereum listing for its BCERT token
The Latest
As June is in full swing, we have some significant new milestones. This includes a Microsoft Partnership sales and marketing partnership, The Hillcore Group $25 Million in funding (press release here), as well as a signed LOI with a Zurich $4B Private Equity Firm to provide investor exposure. The $.15 private placement has closed, and a new Series-A Private Equity Program was just unveiled (register to view it here) .
If you haven't seen it yet, check-out the new website, which will continue to be updated and evolve with the growth of the company. 
We appreciate everyone who has helped to shape our story so far. Moving forward, BlockCerts Blockchain will strive to become the most globally connected, trusted, and advanced blockchain platform in the world.  It is our guiding mission to make it simple for more people and more businesses to access blockchain technology to succeed and to connect. We hope you'll join us!