JPMorgan Chase: Crypto Naysayer to Blockchain Champion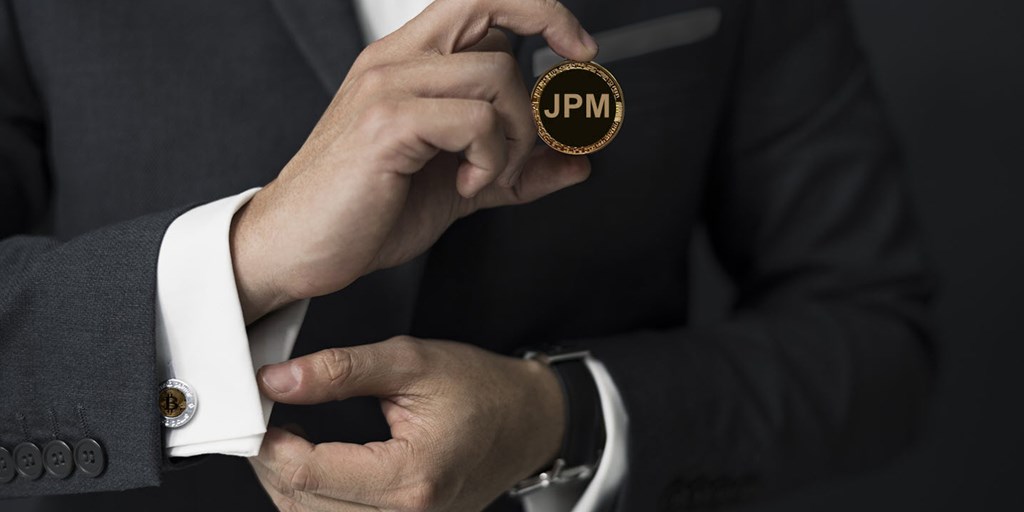 For crypto naysayers and enthusiasts alike, last week marked a monumental shift in the way we view and adopt cryptocurrency. Becoming the first major US bank to issue its own digital token, JPMorgan Chase took the stage, launching "JPM Coin." According to CNBC, the digital token may be used to complete instant transactions 'between clients of its wholesale payments business.'
"This is like Bitcoin put on a business suit, got an MBA, went to business school, decided to become respectable," CNBC reports. Clearly, respectable hasn't always been in our vocabulary when it comes to crypto. This is especially true for JPMorgan's own CEO, Jamie Dimon.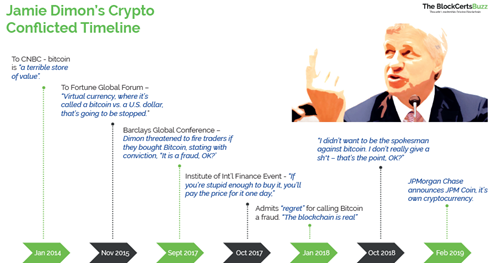 January 2014 – Jamie Dimon tells CNBC that bitcoin is "a terrible store of value." "The question isn't whether the bank accepts bitcoin. The question is do we even participate with people who facilitate bitcoin," he adds.
November 2015 – Speaking at the Fortune Global Forum, Dimon spoke out against Bitcoin again saying, "Virtual currency, where it's called a bitcoin vs. a U.S. dollar, that's going to be stopped."
And yet, even in the early stages, Dimon recognized potential in blockchain tech. "Blockchain is like any other technology," said Dimon. "If it is cheaper, effective, works, and secure, then we are going to use it."
September 2017 – Shots were fired at the Barclays Global Financial Services Conference. Dimon threatened to fire traders if they bought Bitcoin, stating with conviction, "It is a fraud, OK?'
October 2017 – While attempting to give the subject a rest, Dimon just couldn't hold his tongue at an Institute of International Finance event. "If you're stupid enough to buy it, you'll pay the price for it one day," he warned.
January 2018 – In the new year, Jamie changed his tune, admitting "regret" for calling Bitcoin a fraud. "The blockchain is real," he added.
October 2018 – Later, on the 10th anniversary of bitcoin, Dimon's birthday message was a little less than friendly. "I didn't want to be the spokesman against bitcoin. I don't really give a sh*t – that's the point, OK?"
February 2019– JPMorgan Chase trailblazes the crypto world, becoming the first US bank to create its own form of cryptocurrency.
Separating Blockchain From Crypto
Thanks to Dimon's conflicting messages throughout the years, many viewers are baffled by the news of JPMorgan's potent force in the crypto world. In the public eye, the big bank may be suffering some sort of identity crisis. But if we begin to look beneath the surface, we may just find that both Dimon and JPMorgan have been more consistent than we thought. "I think Jamie has been more consistent than people give him credit for," A JPMorgan spokesperson says. "He's always separated cryptocurrency from the underlying value and the use of blockchain."
Big Banks Take Blockchain
As for JPMorgan's stance, it looks like the blockchain has always been on their side. "We have always believed in the potential of blockchain technology and we are supportive of cryptocurrencies as long as they are properly controlled and regulated," a spokesperson reports. "As a globally regulated bank, we believe we have a unique opportunity to develop the capability in a responsible way with the oversight of our regulators," he concludes.
We have always believed in the potential of blockchain technology and we are supportive of cryptocurrencies as long as they are properly controlled and regulated.TWEET THISJoining the blockchain party, multinational bank, HSBC recently announced yet another milestone in blockchain adoption. Utilizing distributed ledger technology, HSBC has settled over three million FX transactions, valued at $250 billion. According to HSBC, the solution is here to streamline 'intra-company foreign exchange activity', automate payments orchestration, and provide an extra layer of transparency and immutability.
In Conclusion
The value of the blockchain has always been there. The opportunity today is to find the right environment for the technology to thrive. With the world's largest banks moving forward, we stand by our previous statement, 2019 is the year of blockchain adoption.