How to Effortlessly Join the 'Work of the Future' Movement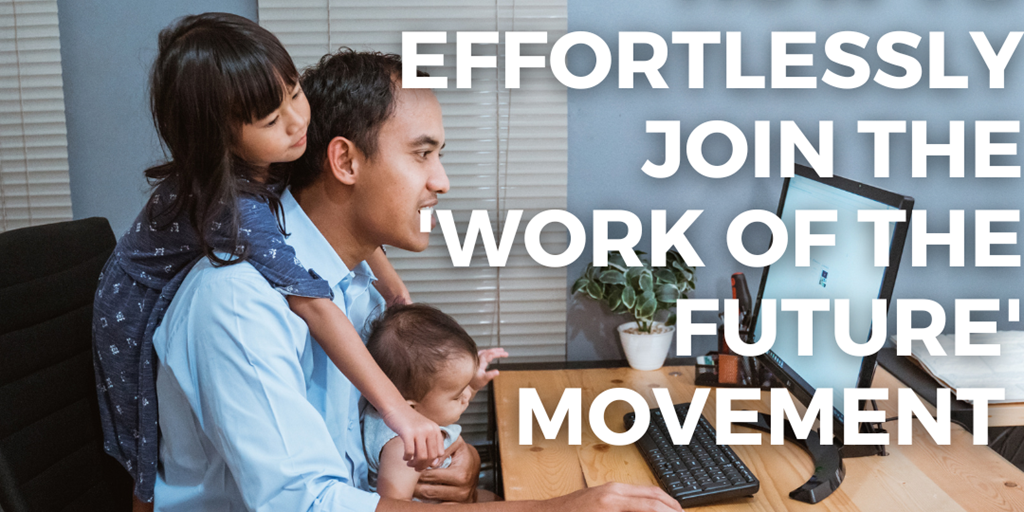 With the new possibilities of work comes a new wave of challenges. How to structure a small business to be instantly profitable? How to streamline management to focus on what you love to do?
The future of post-pandemic work
The pandemic has dramatically changed how we work and has precipitated a new trend towards digitization, which will challenge existing models and patterns of working.
Work is accounting for between four and five times as much remote work as it was before the pandemic, and it may drive greater changes in work geography, with individuals and firms moving from major cities into suburban and smaller cities.
Nowadays you can work anywhere, and collaborate with people in any time zone. Our team at BlockCerts is a perfect example of the work of the "future": we are 100 people from 5 different continents.
Remote work is also cutting business trips since the widespread use of video conferencing during the pandemic has led to a new acceptance of virtual meetings and other aspects of work.
Everyone against Elon Musk
While Elon Musk stated remote work is "no longer acceptable" in a leaked Tesla memo, it appears that the world is going in the opposite direction.
Big names in the corporate landscape are communicating the opposite: JPMorgan Chase CEO Jamie Dimon, for example, admitted in the bank's latest annual report that "working from home will become more permanent in American business."
New Normal - 39% of Work Remotely at least Part of the Time
The McKinsey Global Institutes "Future of Work After Covid-19" report estimates that, even once vaccines are fully deployed and workplaces are back to their "new normal," 22% of jobs in the United States may be done remotely 3 - 5 days per week, while 17% may be done remotely 1 - 3 days per week -- with no lost productivity.
In the light of a new way of working and collaborating, powered by the internet and boosted by the pandemic, more people are taking advantage of the freedom and flexibility by investing in their businesses.
50% more gig workers, more entrepreneurs
"A broad definition of the gig economy refers to a move away from the standard employment relationship towards increased flexibility—all contract work, contingent work, freelancing, and gig work," defines Anne Keegan from Ireland's UCD Michael Smurfit Graduate Business School.
The last Taskmo Gig Index report states that the number of active gig workers has increased by at least 50% in the last five months.
While many of the gig demand is for business development and last-mile delivery, many roles are digital-based, such as digital marketing, brand promotion and micro-influencers.
The rise of entrepreneurs working online is creating an increasing demand for tools and solutions that helps them to better manage their business.
The 3 main difficulties of new entrepreneurs
1). Managing time = increased profits
To become a master in allocating the right time on the right tasks takes a lifetime.
When you choose to start your own business, you may soon find yourself dealing with the immensely challenging problem of finding the necessary time to grow in specific areas, because you have to do everything!
You have to deal with clients, manage paperwork, write proposals, post on social media, and collaborate with the team.
If you are going to devote yourself to starting and growing your company, it is going to be almost impossible to simultaneously handle any other career.
You may manage the early days of your business on the side, during your nights and weekends, but if you want any chance at growing significantly, invariably, you are going to need to leave your day job.
The key is to implement a tool that can help you to save time by having everything in the same place - meetings, conversations, chat groups, signing contracts, tasks, documents…
This is where WorkCERTin shines in helping entrepreneurs to grow their companies
2). Effective communication = better results
Communication challenges easily made it into a Top 10 list of key business challenges for all organizations.
Especially when considering the "new normal" imposed after the pandemic, effectively collaborating with your team your suppliers and clients is never been so key to growth.
The difficulty in managing remote work can be limiting. Different time zones, hiring internationally, asynchronous communication, just to name a few.
Digital tools such as WorkCERTin are essential to maintain efficiency across teams, enabling better time allocation than in the continuous switching from zoom calls to slack teams. Think of it as your secret weapon, your Swiss Army Knife of tools to manage everything in your business. It's like having extra help that you don't have to hire!
Using digital tools to establish a better workflow and strengthen remote relationships is the next step.
3. Implementing new technologies = simplify and save $
It's easy to see starting businesses using dozens of software, one for each activity, aiming to automate and maximize the use of time.
The problem is that while saving time, these dozens of tools can cost a lot when combined!
They often do not communicate with each other, and when it happens the security is compromised. Seat fee makes them more expensive as you grow with a team.
WorkCERTin is an all-in-one tool that incorporates the functionalities of a dozen tools. More than that, it's encrypted in the blockchain, so your data stays private.
Built on top of the BlockCerts Platform, WorkCERTin streamlines the backend so you can focus on building what you love.
Check it out, you can Register your business and get a free Blockchain Domain for FREE and start using some of the WorkCERTin tools now for FREE - Click Here >>
To enable comments sign up for a Disqus account and enter your Disqus shortname in the Articulate node settings.