Blockchain, A Week in Review – March 4, 2019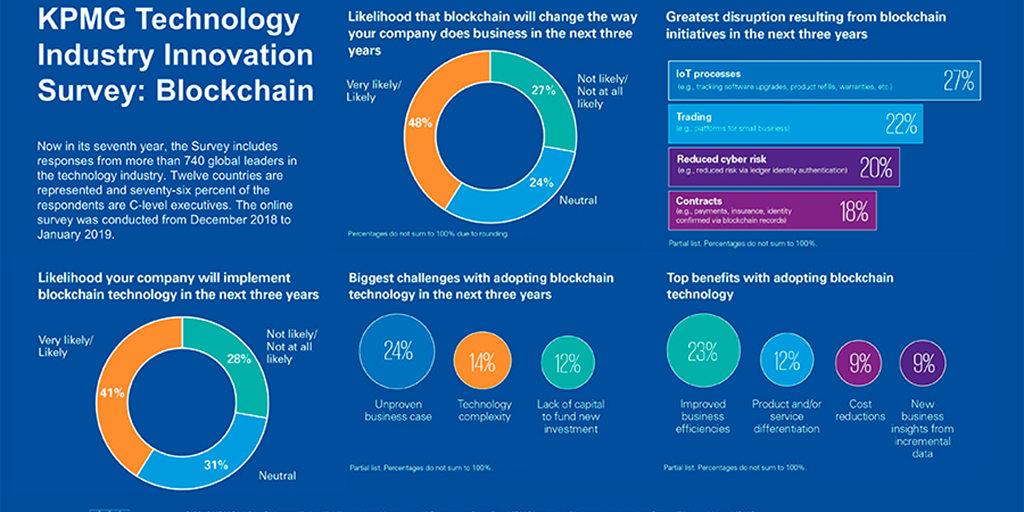 Synergy and Adoption: A Peek into the Blockchain Revolution
C-Level Execs Lead with Blockchain
C-level execs are adding a new leadership role to their job description. Leading in the blockchain revolution, nearly half of the world's tech executives are prepared to implement blockchain over the next three years. This news comes from KPMG's February report, "The Technology Industry Innovation Survey" where 740 global tech leaders weighed in on the future of blockchain.
"The battle between blockchain believers and doubters is coming to a close. High powered executives running multi-billion dollar companies (which produce products and services that we all use) are learning about blockchain, believing in it, and will be shaping their companies to use it — all in the next three years," CryptoManiaks reports.
According to KPMG's new survey, close to 50% of respondents held firmly to the belief that blockchain will impact the ways business is done. This week, we peer into the crystal ball to understand what this might look like in the next three years. 
President Macron Advocates for Blockchain
French President Emmanuel Macron is certainly making his intentions crystal clear. Last weekend, Macron spoke out about issues of traceability in the European agricultural system at the 56th International Agricultural Fair in Paris.
Macron pointed to the blockchain as a powerful solution and a way to track products "from raw material production to packaging and processing," according to The Block. His plan for a "homogenous policy" is quite timely, following the recent Polish beef scandal along with a string of other incidents that have posed a threat to consumer health.
German Government Reveals Blockchain Strategy to Come
 Meanwhile, Germany is gearing up to harness its own blockchain potential. According to a CoinTelegraphreport, the Cabinet of Germany has revealed that a blockchain strategy is in the works and will be introduced in mid-2019.
The strategy will involve both the Ministry of Finance and the Ministry for Economic Affairs and Energy. The German Government welcomes recommendations from a variety of unnamed organizations and will continue to make the country's blockchain development a collaborative effort.
The Oil and Gas Blockchain Consortium
Speaking of collaborations, a group of oil and gas companies has recently joined forces to establish the very first 'industry blockchain consortium in the United States.' The Oil and Gas Blockchain Consortium is intended to elevate blockchain technology, completing proofs of concept to explore its benefits in the oil and gas industry.
As stated in a press release, "Blockchain technology is a catalyst for reimagining the way we do business and this consortium represents a collaborative effort to explore the technology's potential and leverage learnings to drive industry adoption."
Smart Logistics Accelerator
Another significant collaboration involves global tech company, HCL Technologies and Sierra Wireless, the top provider of device-to-cloud solutions. Working together, the dynamic duo announces 'the availability of the HCL Smart Logistics for Inventory Tracking 1.0 Accelerator.'
Powered by SAP® Leonardo, the smart logistics solution serves to "monitor inventory efficiently, improve traceability, and unlock additional revenue from assets." It will leverage HCL's tech expertise, SAP's business and blockchain services as well as Sierra Wireless' OctaveTM distributed data.
PwC's Smart Credentials Platform
Yet another launch is on the horizon with PwC's Smart Credentials platform. The platform is in the process of being trialed by PwC staff who have been qualified with the Institute of Chartered Accountants of Scotland (ICAS).
Using blockchain technology, the smart platform will ultimately shift the way professionals share their own credentials. It will restore complete control to the owners of this information, reducing exposure to fraud, streamlining the process, and potentially reducing employers' screening costs as well.
HashCash
...50% of respondents held firmly to the belief that blockchain will impact the ways business is done.TWEET THISIn other news, blockchain consulting company, HashCash has introduced new blockchain services that will address pain points in mutual funds management. As an established provider of blockchain-based financial solutions, HashCash intends to 'close the gaps' of the 'mismatched' industry. Ultimately, it hopes to synergize mutual funds investment within emerging markets.
Whether a CEO, a government leader, or a world-leading enterprise, the blockchain is bringing a deeper synergy to the world at large. And with so much buzz in just one week, who knows what the next three years have in store!